Home prices are one of the most visible examples of the principles of supply and demand at work in our economy.  In short, supply and demand dictate that when supply is abundant, prices go down to generate greater demand. When demand outpaces supply, prices rise to reduce the number of buyers interested or eligible in the product.  Each force reacts to the other to achieve a balance.
How do interest rates affect supply and demand?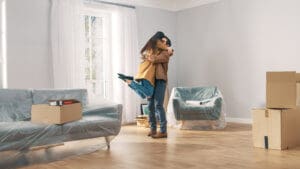 Lower home prices generate consumer interest, and many buyers seek loans.  Greater demand for loans raises interest rates.  Consequently, interest rates fall when demand decreases to help motivate consumers to shop for homes.  The Federal Reserve Board ("the Feds") works to curb rising home prices (a significant factor in overall inflation) by raising interest rates.  Theoretically, fewer people will shop for homes if loans are more expensive, and prices will decrease.
According to the New York Times on January 5, 2022, the Feds project they will raise interest rates three times in 2022 to stem inflation by making borrowing for many types of large purchases (like homes) more expensive, thus weakening demand.  Less demand should lead to a reduction in home prices.  Economists and investors forecast the interest rate increases could begin as early as March.
But will rising interest rates work to lower home prices in our current economy?
Some interesting factors in our current economy might throw a curveball or two in this typical process.
Investment companies are purchasing significant numbers of homes nationwide.  While more investment activities occur in larger urban cities, investors seek homes to fill housing needs for everything from multi-family housing units to Air B&B vacation rentals.  These investments are usually cash offers, so changes in lending rates have no impact on the demand.
Younger generations are receiving inheritances as baby boomers pass on.  We've predicted sweeping numbers of retirements and deaths as the baby boomer generation (born 1946 to 1964) ages. Pew Research reported that the number of baby boomers had declined so much that in July 2019, the number of millennials surpassed them.  Significant assets are trickling down to their children, many of whom use the cash to purchase homes.  The changes in interest rates may minimally impact those with cash offers or large down payments from this group.
Trends towards working and shopping from home are increasing the importance of home for families.  Before the pandemic, Americans spent most of their days away from home:  at work, school, restaurants, the mall, and movie theaters.  Now, people are finding they are spending more time than ever at home, and having a comfortable place to work, learn, and recreate is more critical than ever.  Many of these homebuyers are unphased by higher interest rates because they will pay a premium for having their needs met.
There's an unbelievable shortage of housing in Oregon.  Between pandemic-related shutdowns and scarcity of materials, fewer homes are available on the market.  During the 2022 Housing Economic Summit on January 13, Oregon Representative Julie Fahey said, "The root cause of our housing crisis is the lack of supply."  Even with legislative help, experts feel the shortage will not be overcome for at least a year or two.  That means that regardless of changes to the interest rate, there will still be more demand than supply throughout the immediate future.
As a result, many experts are skeptical about how rising interest rates will affect home prices.  If anything, they feel the assistance from the Federal Reserve combined with post-pandemic recovery is expected to ease the craziness of the home buying market.  We shouldn't see the nearly 20% increase in home prices as we did from April 2020 to April 2021.  In 2022, we're more likely to see a stabilization of prices rather than a decrease.
If you're considering buying or selling a home in 2022, contact me today to get started.  Investing in your home is an important event for your family, and I have the expertise you need to make sure you're getting the best deal possible.  Let's talk about your goals and build a plan to achieve them together!